Today I had a chance to practice my patience. I failed 🙂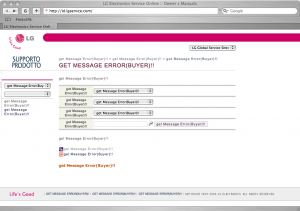 It all started when we realized that we have lost the User Guide / Owner's Manual for our LG Jet Cool Air Conditioner. Model LS-Q076.
While we still don't know how to program the AC to shut off at certain time.
We need this functionality to ensure that the kids will still have an enjoyable night sleep – but without suffering from dry air due to a continuous, all-night, AC operation.
So, easy, right? Nowadays, just Google, and you should find it, right. Right ? 🙂
Finding LG's website was easy enough. However, I immediately realized that the WHOLE website's interface was coded in Javascript.
This is a nightmare for visitors like me for various reasons :
(1) Broken "back" button
(2) Slower website performance
(3) In case of problems – it's back to start for us.
The International LG website has 4000+ documents listed for their AC product alone. So I looked for its Indonesian website. Found it in no time. And the horror begin.
The website is slow. Horribly slow. This is on a 3G broadband connection, with regular 160 Kbps download speed.
It's the dynamic parts – the static parts of the website renders quickly. However, its dynamic ones, such as lists, will show up MUCH later.
Basing the website heavily on Javascript doesn't help either in this particular case. Now you have 2 dynamic parts – on server and client. Both horribly unoptimized.
By default, a dynamic website WILL perform slower than a similar, static one. There are tricks to make it faster, but you need to be really knowledgeable in this topic to pull it off.
LG's website not only deploy dynamic website on both of its server & client side; it also does so blindly.
Actually, I still have patience for this kind of websites. Since they're so widespread anyway, sometimes you just have to grind your teeth and get on with it.
But broken navigation ? That's the last straw.
Basically, I was browsing on the braindead UI design of LG's website, when it threw an error on me.
I call it braindead because you are looking for a single document from a THOUSAND available choice – but you can only see 20 choices at a time; and you can NOT skip to the page where you think your document is.
Then after skippng about 40 pages, you found the document – and it threw an error.
I had to start again from the Front page 🙁
No, the BACK button does NOT work. Genius, I know.
So, after hours of browsing, retries, and barely enough patience to held back my rage; I finally got my document. Yeah!
Now we know how to set the AC off after certain time.
Then I rushes to my blog, and wrote this. 🙂
Anyway, hope you enjoyed reading it, more than I have suffered it. These kind of websites should be named & shamed as widely as possible.
Hopefully then we'll be seeing less of them. And the Internets then will become a MUCH better place to browse around.
To Hell with stupid web design practices ! 😀