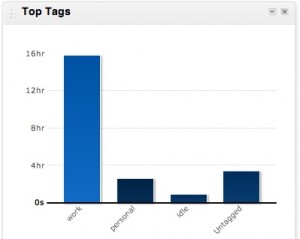 Selama beberapa minggu ini software RescueTime.com telah terpasang di laptop saya. "Lho, RescueTime.com itu bukannya website? Kok software?". Ya, ini kombinasi layanan yang unik – software di komputer Anda akan mencatat apa saja yang Anda kerjakan. Lalu kemudian Anda bisa melihat laporannya di RescueTime.com
Terus terang tadinya saya extra pesimis dengan slogannya – "Ridiculously Easy Time Management Software".
Kebetulan saya sudah pengalaman mencoba berbagai macam software serupa. Mulai dari Borland SideKick (omg – masih ada yang bahkan menjual software ini !), Lotus Organizer (probably the best PIM out there), Google Calendar, iCal (sync dengan calendar di handphone saya), dst.
Semuanya sangat membantu, tapi selalu saya merasa masih ada yang kurang. Selalu saya merasa bahwa performa & produktivitas saya pribadi masih bisa ditingkatkan lagi.
Jadi karena perasaan tersebut, saya pasang RescueTime.com di laptop saya, walaupun dengan agak sedikit segan. Bukan apa-apa, saya berusaha agar tidak terlalu banyak aplikasi terpasang di laptop saya. Ribet.
Apalagi ini justru berjalan terus, dan ketika saya konek ke Internet, softwarenya juga secara rutin mengirim data-data aktivitas saya ke server RescueTime.com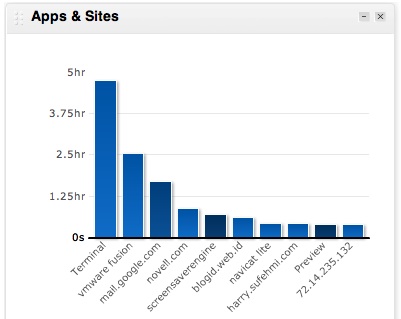 Ternyata instalasinya cukup simpel. Berjalan dengan cepat, dan softwarenya langsung berjalan. Hanya menanyakan username & password saya satu kali, lalu tidak ada lagi mengusik kita. Saya perhatikan, softwarenya juga cukup stabil. Lalu saya cek sekilas disitusnya, datanya juga sudah mulai masuk di account saya. Oke, mari kita biarkan dulu dia berjalan selama beberapa hari.
Lalu saya lupa, dan baru teringat lagi belakangan.
Secara ringkas, inilah yang terjadi :
Minggu pertama : shock 😀
Dua minggu selanjutnya : optimalisasi cara kerja dan prioritas pekerjaan
Minggu ketiga : Sukses.
Secara detail – apa yang terjadi ??
Setelah satu minggu, saya baru ingat bahwa saya telah memasang software RescueTime.com. OK, iseng ah, coba kita lihat, hasilnya seperti apa sih ? Saya buka RescueTime.com, dan login ke account saya. Dalam waktu singkat, langsung terbuka beberapa panel yang menampilkan rangkuman performa / produktivitas saya selama ini.
Dengan kejam, RescueTime.com, tanpa tedeng aling-aling, melaporkan bahwa produktivitas saya, dari skala -2 sampai 2, hanya 0.2 !! 😀
Seperti kata alexfarran di Twitter :
Rescuetime is unforgiving. It can't be bargained with. It can't be reasoned with. It doesn't feel pity, or remorse, or fear.
Bisa terasa muka saya memerah ketika itu, hahaha. Hanya 0.2 ?? Apa yang terjadi ?? 😀
Penasaran, saya kemudian mengutak-atik situs RescueTime.com lebih lanjut lagi, meneliti latar belakang dari skor yang cukup menggemaskan tersebut.
Beberapa hal yang saya temukan :
Facebook ! Ketika itu saya sedang seru-serunya mengawali petualangan di Facebook. Dan karena Facebook bukan dianggap kegiatan yang produktif (suatu yang yang bisa, ehem, diperdebatkan) maka total produktivitas saya terjun bebas. Karena memang, ketika itu, cukup banyak waktu saya yang terpakai untuk mengakses situs yang satu ini.
Plurk : Saya kira hampir semua orang sudah tahu bagaimana adiktifnya situs yang satu ini 😀
Secara ringkas – bisa saya katakan dengan gembira bahwa saya sudah bebas dari kecanduan Plurk, berkat kekejaman RescueTime.com 😀
Situs / software yang belum terdeteksi : RescueTime.com bukanlah sesuatu yang sempurna. Ada kalanya dia tidak tahu apakah suatu situs yang kita buka / software yang kita gunakan itu termasuk produktif atau tidak. Akibatnya, cukup banyak kegiatan saya yang diberi nilai 0 (nol), netral.
Untungnya ini bisa kita koreksi dengan mudah — kita bisa dengan sangat cepat memberitahu RescueTime.com, bahwa suatu situs / software adalah kegiatan produktif / tidak.
Jadi ternyata inilah RescueTime.com. Dia bukan software pengatur jadwal kita, tapi hanya sekedar mencatat saja. Sederhana kan ? Tapi, dilakukannya dengan sangat efektif, dan dengan hasil yang sangat mudah untuk kita pahami.


Selama 2 minggu kemudian, saya sibuk sendiri merubah berbagai kebiasaan kerja saya. 😀
Sekitar setiap 2 hari saya memeriksa lagi performa saya. Jika masih ada yang terlihat waktu yang terbuang, saya tahu terbuang karena apa, dan selama berapa lama.
Luar biasa – rasanya baru kali ini saya benar-benar merasakan memegang kontrol terhadap waktu yang saya gunakan. Maklum, dasar pelupa, jadi sering tidak sadar dengan hal-hal seperti ini. RescueTime.com mencatat semuanya untuk saya, dan menjadi pengingat yang cukup menohok 😀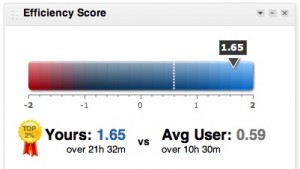 Pada minggu ketiga saya memeriksa lagi skor produktifitas saya, dan berapa nilai saya kali ini ? 1.65 saudara-saudara sekalian 😀
Dari skor maksimal 2.0, skor 1.65 ini memasukkan saya ke Top 2% skor di RescueTime.com.
Alhamdulillah, kini saya bisa bekerja dengan gembira dan tahu bahwa saya telah, dan akan selalu, produktif. RescueTime.com akan selalu membantu menyampaikan kekurangan-kekurangan saya dengan tanpa segan-segan dan perasaan bersalah sama sekali. Dan karena itu maka saya jadi akan selalu bisa memperbaiki diri saya sendiri.
Sangat direkomendasikan – software RescueTime.com tersedia untuk Linux, Windows, maupun Mac OS X. Selamat mencoba !